RSD 0063-2068-CH Traction Grips Chrome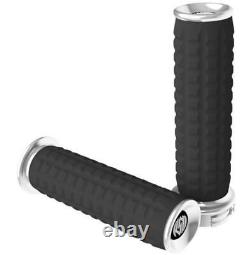 Marketing Color: Chrome CNC machined from billet aluminum. Road race styled rubber knurling.
Includes RSD and no RSD branded badges. Matching Traction foot and toe pegs available.
Available in black, chrome, Black Ops and brass. Black Ops finish features gloss black on top of contrasting textured black for outstanding durability and good looks.
On the continent of North America. Photos are for reference only. Actual product may differ from the item shown in photograph.